[Question] Bucketing Values in Bins of 10
Question: inspect the numbers table (a screenshot of the first few rows is provided below). Create a table with a count of frequencies, dividing the values in buckets of 10. Ex: 5 entries between 0 and 10, 4 entries between 10 and 20, and so on.
Original Table:
Desired Output:
Note: since the original table was generated using the Random() function, your exact frequencies may differ from the table below.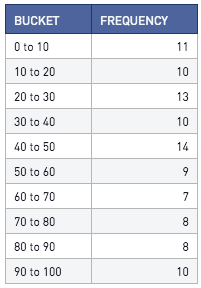 ---
Ready for the solution? Click here!